Winter is also a great season to show off different clothing and accessories and make your business the ultimate shopping centre for your customers. The wholesale umbrellas that we can offer you at Cerdá are proof of this. They are unique, fun, creative and intended for different types of shopper, from the youngest to the adults, including, of course, young people and teenagers.
Umbrellas are the ideal complement for those rainy days when dark colours tend to take over. Adding a touch of colour to your outfit and that special spot of joy and fun is the key to making your day-to-day life much more enjoyable and fun.
So get your stock ready now with the best and most fun wholesale umbrellas that you will discover in Cerdá's Winter catalogue. Not only will they protect your customers from the rain, but it will also be great fun for them to show off the different models that we offer.
Select the ones that best suit your type of customer from our wide range of designs and increase your profits!
Wholesale children's umbrellas, the power of not getting wet!
Wholesale children's umbrellas are an indispensable option that you can't afford to be without. It's no secret that children love the rain, whether it's jumping in puddles or even letting the rain soak them to the skin. Mothers and fathers will have peace of mind knowing that their children will enjoy rainy and wintry days properly equipped with items that protect them from the cold and damp, guaranteeing play without the consequences: coughs, fever and various ailments.
Make parents and children wish they had their own umbrella! How can we do this? That's easy!
Offer them the best of the market, the most fun, original, easy to use models and with their favourite characters!
You might be interested in: Shoes with lights for children: the preferred ones for the little ones
Every little girl and boy is thrilled when they open their umbrella and see that their favourite is the one protecting them from the rain. Enjoy your triumph in offering them what they are looking for!
In the Winter de Cerdá catalogue you will find a wide range of models for the youngest members of the family. From those with automatic opening with high resistance metal tube, to manual polyester ones.
You can also offer transparent umbrellas with their favourite children's characters' designs: superheroes, LOL, Harry Potter, Minnie and Mickey Mouse, Frozen...
They are also the perfect complement to encourage cross-selling and maximise your profits. Prepare your stock for the winter!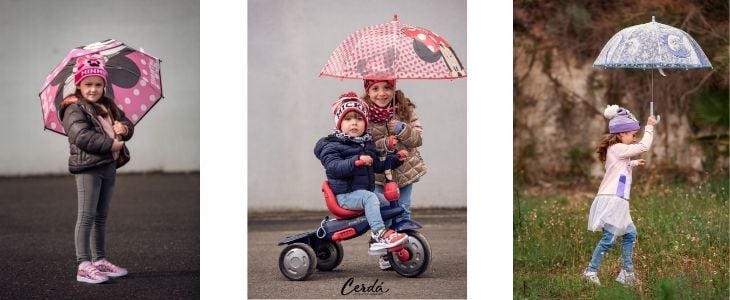 Umbrellas for young people and teenagers with everyday glamour!
Teenagers themselves, are a world apart. In many cases they are still children, but their internal struggle to grow up and become a grown-up does not allow them to really enjoy everything they like.
At Cerdá we have thought of them too, so that you can surprise them at the point of sale!
Because the youth umbrellas we offer you in Cerdá are the perfect combination between the characters they like the most, their desire to keep enjoying being children and, at the same time, their need to be able to show everyone that they are no longer little, they are glamorous and wear the coolest outfits of the moment.
Small pocket-sized, transparent models with small details of your favourite characters. Stitch, Harry Potter, The Mandalorian, Mickey, Minnie, Marvel, Batman, Star Wars…
Discreet but fun at the same time. Both beautiful and useful. Perfect for young people and teenagers!
Discover: How to increase your profit margin with licensed products?
Umbrellas for adults. Imagination and the desire to live and enjoy life to the fullest!
The new trends are making their way onto the market and, at last, it seems that adults have wanted to begin to change their conception of maturity and let themselves be carried away by happiness, joy and passion. And yes, this trend is increasingly on the rise and opening up a very interesting niche market for businesses, the sale of products and wholesale umbrellas with different styles, more fun and full of creativity.
Because adults are fans too, and it is well known that fans always want to wear anything that relates to their heroes. And if your outfit is complemented by elegant and unique designs, get ready to succeed!
In our Winter catalogue we have created spectacular designs. For example, the Dead Pool model, which features a manual opening, is made of polyester, has a width of 61 centimetres and is stored in its cool catana-shaped case. Your customers will definitely want to buy this umbrella with a difference!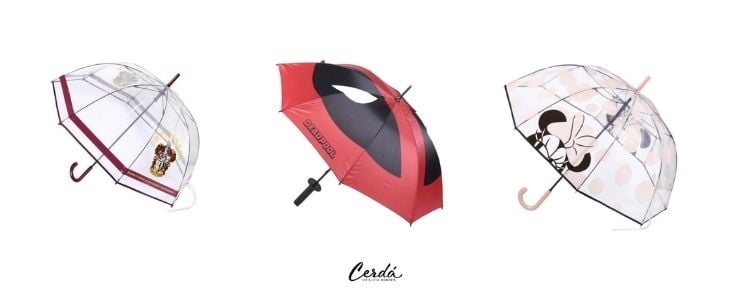 Another option that is very popular with adults in general is transparent umbrellas. They are comfortable, practical, and allow light to enter and allow us to better see where we are going. With manual opening system, 8 bars and high resistance metallic tube, comfort is guaranteed. You can also choose from a wide variety of different models in which the characters loved by adults will be the real stars. Superheroes, Minnie and Mickey Mouse, Harry Potter, The Mandalorian... The selection of models is enormous!
Read more: Adult clothing trends for 2022: all the characters!
Check out the Winter catalogue that we have at your disposal in Cerdá, and discover a new and different world of wholesale umbrellas to offer your customers. Innovation and creativity will make your business grow, increase your sales and add to your profits.
Get to work now and get your stock ready for the winter season! Your customers will thank you and will recommend your shop to everyone who sees their original umbrellas.