Choosing something fashionable is not all that we have to offer. Our products have outstanding quality as we have been making them for over 40 years. We are specialized in both their construction and their manufacturing. What's more, as we have had over 40 years of experience in selling wholesale products for children, we have developed an understanding of what it is that excites children and makes them want to wear or choose a specific clothing item over another. All of our products are licensed products and this is why we are set on ensuring that quality light shoes will be sold in your stores so that every customer that comes in can leave your premises happy and excited.
Why should you choose to bring light shoes to your business?
The first light shoes became available to the public in the early 1990s and they were all the rage. Every child wanted to have a pair of shoes that would literally light up every time they made a move. They were fun and exciting, but unfortunately, while the concept was good the construction at the time was questionable as high amounts of mercury were used in their construction. What was more, it appeared that these shoes had a small life cycle as the lights would often fade and even stop working? Parents stirred their children away from purchasing these types of shoes as the health concerns were too valid for them to dismiss.
And yet, decades later these types of shoes are now making a comeback and children love them. With new LED technologies, the shoes are now rechargeable and they do not have any harmful materials that could make parents choose to not purchase them. More importantly, the LED strips can now go around the shoe, instead of just in the hill making the whole shoe light up completely with every step.
In our lines, we combine the LED light shoes with some of the most beloved characters from shows and movies so that any child that enters your store can get the opportunity to find everything that they want. At Cerdá we have a long history of making themed collections so that we can fulfill every child's wish.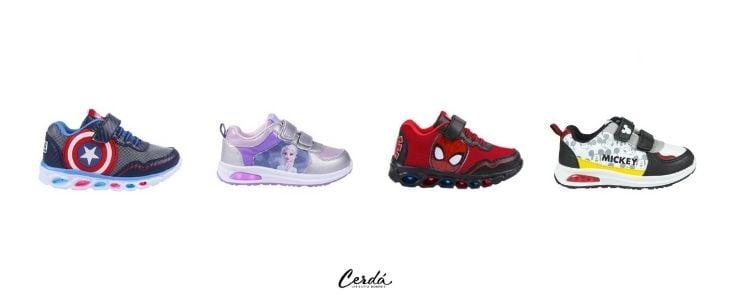 Superhero shoes with LED lights
Our Superhero shoes include many loved Marvel characters. One of our main lines has shoes for the Avengers, Captain America, Spiderman, and Batman. The combination of the characters with the lights will make young children feel like they are part of the Marvel universe and have superpowers too. The fact that with every jump or while they are running their shoes will light up will allow them to escape from reality and instead be a part of a world of action and world-saving. This is why this line is beloved by many children.
You might also be interested in: Disney backpacks for the BTS season
Harry Potter light shoes for kids
Our Harry Potter shoe line involves some of the characters of the wizarding universe that are most beloved by children. Once again, through the use of the light and the visual a child will be able to escape their own reality and pretend to be a part of the magical world of Harry Potter. For a child who loves the story of Harry Potter, the shoes will speak for themselves without you needing to spend any money on marketing campaigns or trying to convince your customers that these are the items that they need. Instead, you will benefit from the child's imagination as they will be able to imagine themselves wearing the shoes and they will be able to see the world of possibilities available to them in those moments.
Disney shoes with lights
For some of your younger clients, the Disney line will have everything that they could wish for as it carries shoes with imagery from the movies Frozen, and of course the classic Mickey Mouse Universe. No matter who their favorite character or movie is they will be able to find something that excites them and that makes them want to convince their parents that those are the correct shoes for them. Disney has a massive appeal to young children and by introducing Disney merchandise in your store you will be able to use that appeal and to sell high-quality products to your clients.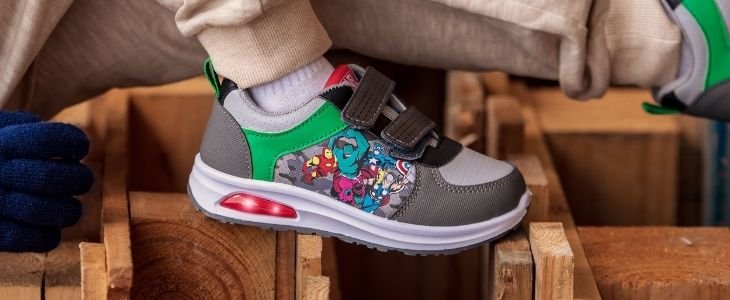 Other Wholesale footwear lines
Apart from our LED light shoes for kids, we do also offer options without the lights in most of the categories mentioned above. This is because we believe that there might be some children or some climates that could potentially be better suited to different types of shoes. This is why as part of our winter line we also offer boots that can be worn by young children.
While for children design is king, for parents having items that are well made and can support their children's needs is the ultimate requirement, especially when it comes to footwear. This is why we offer wholesale footwear that can be used during the school season and the winter season. These shoes are constructed with care so that even the most demanding of parents will be able to see that they are the best available choice for their child since it will combine both a design that is loved by kids as well as a quality shoe that can be worn to support their child's activities through all different kinds of weather.
You might also be interested in: Umbrella collection for rainy days
This is why, at Cerdá, we encourage you to look through our shoe line for this following back-to-school season and winter season so that you can equip your store with all the latest design trends in well-constructed footwear.