Lifestyle backpacks are great for taking to a school or college, but you can also use them on a hiking trip. They are convenient, which is why you will see many people use them in their everyday life.
Disney backpacks for adults
Disney backpacks are a style statement, to say the least. They look good on children but even better on adults. You might get a few looks here and there, but does that even matter? When you are carrying your favorite Disney backpack, it shouldn't matter who appreciates you and who stares. You should only focus on pleasing yourself and matching your trendy clothes with an attractive Disney backpack for kidults.
At Cerdá, we have an extensive collection of Disney backpacks for adults. You can choose from your favorite characters and then choose from the different designs. The most common characters are Mickey Mouse and Minnie Mouse. We have numerous backpack designs for both these characters and more.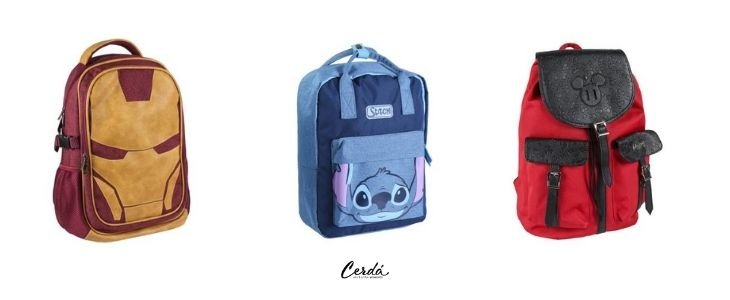 The most magic backpacks for adults on the market
Adult backpacks are often boring and come in bland colors, which is why we are offering exciting new designs for you. If you are looking to spice up your life with some fashionable backpacks for adults, you are in the right place. At Cerdá, the latest designs will fascinate you and your kids! We have cartoon-themed backpacks for kids and adults. That's not it! We also keep different bags for various age groups. So, in essence, your child and you won't be carrying the same backpack on your backs. You could choose a more comprehensive design while your kid could be interested in a simpler yet attractive bag.
At Cerdá, you can also find backpacks for other cartoon characters, like Deadpool, Spiderman, Batman, and more. The Marvel character bags are also very popular, but they sell out quickly. So, be quick, don't waste time, and get your hands on the most magical backpacks for adults in the market.
You might also be interested in: The Mandalorian licensed products for adults
AC/DC backpacks: Let's get rocked!
If cartoon characters aren't your thing, we can understand. Not everyone is a kidult and willing to share interests with their children. We still have something that might interest you. Our newest collection has brought AC/DC backpacks into the mix. So, now you can rock on with your favorite band and wear their backpack to show your support. The bag will even work well when you are going to a concert. All you need is an AC/DC shirt, a similar backpack, and you are all set to be crowned the number one AC/DC fan.
The black AC/DC backpack is particularly very nice. The pattern on the bag pops and gives the backpack an attractive appeal. One look at this bag, and people will be complimenting you on your choice. There is no better feeling in the world than receiving a compliment on your music taste and that too on an AC/DC backpack. You must be doing something right if that is the case.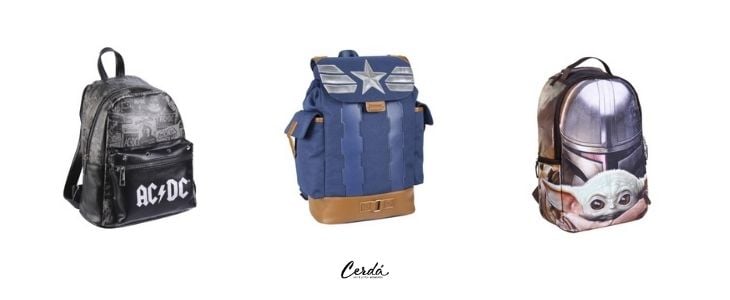 Handbags for adults with their favorite characters
Cerdá also offers several handbags along with Disney backpacks for adults. The new collection is specifically very attractive. It consists of the trendiest handle bags that you can find. Moreover, these handbags have your favorite Disney and other cartoon characters printed on them. It doesn't matter if you like Stitch, Minnie Mouse, Mickey Mouse or some other character, we have a beautiful handbag for you.
Handbags are usually used on errands or casual outings. You won't wear a backpack to a picnic or the mall. That is where the handbag will help out. No need to worry, as you can still pair your outfit with a trendy bag. The new designs are especially appealing. If the brand-new designs don't enliven the kidult spirit inside you, we don't know what will!