Lovers of Sonic games are all around us, among our family and friends. They are those who show their circle of friends how to have fun without leaving home, develop strategies, those who are able to think for hours, make plans, everything so that they can return the characters to their original positions and start all over again.
Everyone loves to play video games, and they have a special affection for their favorite game and character. If you're wondering what to give a player in life this season, we've got everything you need right here. Forget about formal mugs, room décor or novelties and grab something that your gaming-loving family or friends will really appreciate. Cerda Introduces New Sonic products for game lovers!
Who is Sonic?
Sonic the Hedgehog is a Japanese media franchise and video game series owned and created by Sega. The franchise follows Sonic, an anthropomorphic blue hedgehog who fights the evil mad scientist, Dr Eggman.
The main Sonic Hedgehog games are platformers developed primarily by the Sonic Team; other games developed by various studios include spin-offs in the genres of sports, racing, fighting, and party. The franchise also includes animation, 2020 feature film, print media, and merchandise.
If you want to know more about Sonic, Join us!
A new license has arrived at Cerdá: Sonic
Before we move forward, it's worth noting the most obvious reason for offering licensed Sonic products is their significant increase in public awareness and the many sales made since last year on digital platforms like eBay and Amazon.
However, we will explain other reasons why you can be sure to add Sonic products to your inventory:
Sonic Hedgehog is a popular and trending video game among people all over the world.
This is a great option to diversify your product portfolio for your customers.
There will be a huge demand for licensed products in this series in the next couple of months.
Few companies are aware of Sonic products trend, and you can take advantage of this situation.
So, it's a good bet to add a Sonic lover product to your inventory. It will be a surprise for your little gamer. Let's take a look at the new Cerda Sonic products that will be enough to put a smile on your little customer face.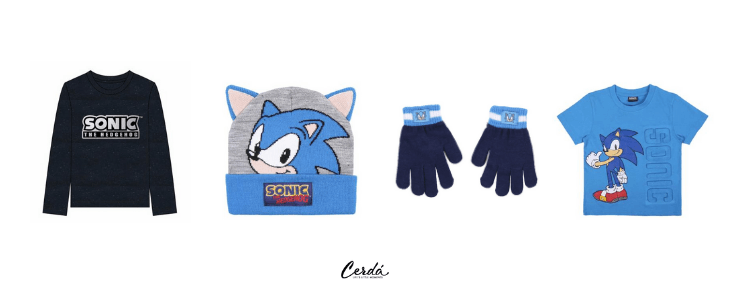 Sonic accessories
Explore a lovely set of sonic accessories like Sonic hats, Sonic sock packs, Sonic undergarments, Sonic gloves and more to update your inventory according to trends. They are very cozy on the inside because they have a sheepskin lining and look awesome on the outside due to their quilted look with sequins, sequins or a full print. Socks-caps and compliments are made of high-quality material and bright colors.
Either way, don't miss the opportunity to add them to your inventory.
Sonic clothing
Create a cozy evening with your favorite character. Check out these cozy Sonic clothes that have the potential to attract a large number of shoppers to your store.
Clothing is obviously one of the most significant parts of a person's life, and we are usually very conscious about what we wear and what it says about us. We not only protect our body: we reflect who we are.
You little fans of video game characters don't have to wait any longer to fall in love with their Sonic outfit by wearing Sonic pajamas, sweatshirts, sweatshirts or other clothing featuring their favorite character. These clothes are super attractive and trendy. Don't miss any!
You might also be interested in: Spiderman winter accessories
Sonic Footwear
Our Sonic footwear collection looks great, and you don't have to wait for more to get your video game lovers favorites. Update your inventory with our Sonic footwear catalog.
At Cerdá, we are always looking for a way to offer you the very best licenses and news as soon as possible. We strive to produce quality, versatile and multifunctional products. Don't wait anymore and grab the new licensing products to increase your sales!