Winter is the perfect season for children to wear beautiful, warm clothing, but it should be warm enough not to freeze outside.
At Cerdá, we know that the most challenging garment to find for winter is shoes with a good design for children, made with materials resistant to humidity, cold, heat, water, and the intensity with which children play.
Children's winter shoes
Children are the core of any home, and parents will always be concerned about their well-being. Winter is characterized by being a season where children tend to get the flu due to the environment's humidity, or they can feel uncomfortable due to the constant cold.
That is why some of the aspects that a parent should take into account before buying childrens winter footwear are:
The footwear material must be flexible, resistant, and fresh materials.

Shoes should have a wide last and should not be tight.

The sole of the shoe must have a good grip to avoid accidents on wet floors.

In case you want boots, they should be a little high to wear slip-on boots.
Licensed Shoe Trends for Next Year
2020 was a challenging year for all entertainment companies such as Disney, Marvel, or LucasFilm, due to the quarantine and Covid-19 delaying many premieres. However, not everything is negative because the demand in the licensing market increased because the streaming platforms had an increase of millions of subscriptions, and the old trends were again the new ones.
That is why in our winter collection, we prepare the licenses like Captain America, Batman, Harry Potter, Paw Patrol and many more.
In case you are interested in doing a character study, you can find more information about these licenses on our website and get ready for the winter season.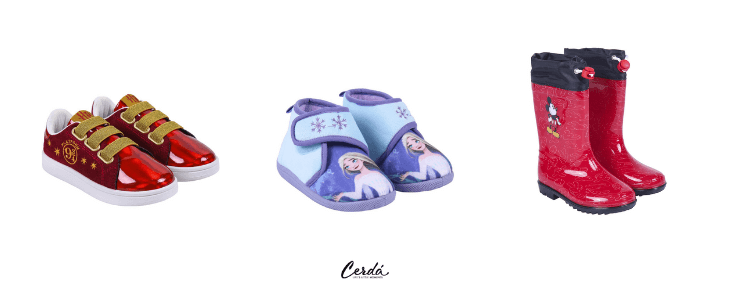 Discover our latest collection of children's shoes
We care about the economic well-being of our customers' stores and the comfort and safety of children when putting on their shoes in the cold winter. Also, we know that it can be challenging to find a good quality pair of shoes with designs that children like, but at Cerdá, we have already taken care of this challenging mission
We are pleased to show you our winter shoe collection for kids.
Children are used to not staying in one place for long, and they are always jumping, running, and playing for hours at a time. Winter is not going to stop any child from going out to play; that is why we have developed 48 models of sports shoes from size 23 for children to size 35 for teenagers.
We have always used the best materials on the market, and most of our sporty shoes are made with polyester, EVA, PU + polyester, PVC to make them waterproof, and some models offer lights when walking.
You might also be interested in: Spiderman winter accessories
Boots
Winter can present itself as snowy and cold, but it can also rain a lot, and children should be prepared for any occasion. We designed a line of slip-on boots so that children can put them on themselves, and they are made of 100% PVC to ensure the footwear's impermeability. On the other hand, this type of boots is aimed at the smallest of the house, and we only offer sizes from 22-34.
House Slippers
It may be that it is icy outside in winter, but it is also essential to have warm shoes inside the home to take care of our children's health. That is why our house slippers are the second product with the most designs in this collection, having 39 types of slippers and slipper boots for all tastes.
Because these shoes are designed to be worn only in the home's comfort, we use warm materials such as polyester and TPR, which keep the heat.

At Cerdá we offer you the newest collections every year so that your offer is never obsolete and is always the most original on the market. Discover all our products!