Today it is undeniable that the LGTBIQ+ community is more than just a colourful flag. Little by little, brands are joining in and positioning themselves in the face of these movements, which also represent a new business opportunity.
It is a trend that is not hidden and is here to stay, gaining followers among young and adult audiences.

For 2022, Cerdá has created Pride. A collection developed in collaboration with Disney whose product line follows the style guide and characteristic creative material that supports, supports and makes diversity visible.
Special Pride Collection
Cerdá is showing its support to the LGBTQ movement by introducing a fresh 'Pride Collection'. We have entered into a partnership with Disney to provide pride-themed Disney apparel. The Disney pride collection will allow you to be trendy at the next pride march. Not only will you stand out, but you will be enjoying your time wearing clothing with one of your favorite cartoon characters.
You might also be interested in: Ideas to be successful with geek products
The Disney pride collection includes a wide range of products. You can choose from bags, socks, t-shirts, tank tops, caps, flip flops, headbands, and more. All the items are rainbow-colored to show support for the LBTQ movement, which uses these colors to signify their struggle.
In terms of accessories, we have scrunchies, stationery, hand-held fans, and collars for pets.
The collection for Disney adults
When we are growing up, we develop a fondness for certain cartoon characters. And when we grow up, that infatuation sometimes never fades away. We find ourselves loving anything that has our favorite character, including books, stationery, clothes, and accessories.
In retail terms, we classify such a crow as a 'kidult'. It refers to an adult who still holds a liking to cartoon characters and other hobbies associated with kids. These folks buy children's products to remind themselves of their childhood. The items also allow them to relive memories that were once the highlight of their childhood. The kidult population consists of any person who is above 20, so anyone who is not a teenager or an adolescent can be accepted in this niche group.
After all, you will be surprised to learn that people in their 50's love to buy Disney stuff. So, if there is a market for something, why not become a supplier to satiate the demand?
Cerdá is offering the Disney-themed pride collection for kidults. It is this demographic that understands the importance of right and wrong. If they are doing that while dressing fashionably, more power to them!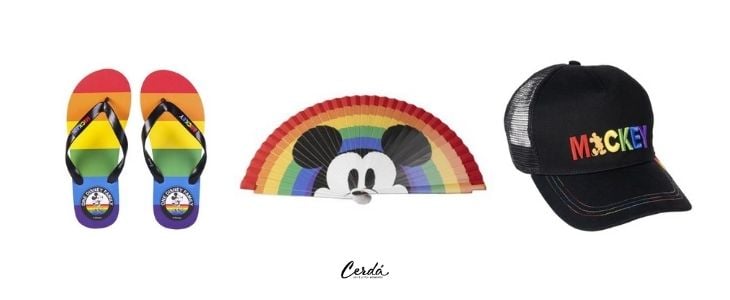 Accessories and Casual Clothes
You are going to find a range of matching products at Cerdá. We have everything Disney, so if you like Minnie Mouse, you can opt for a relevant shirt, a hat, and a small bag to round up the look. You will stand out in the crowd, which is a good thing if you are trying to promote a positive message.
Plus, the products are geared towards both men and women. Therefore, you will find something that suits everybody. If there is a Minnie mouse shirt, then there is a matching Mickey Mouse t-shirt in our store. We want to make sure that you leave our showroom as a satisfied customer.
Moreover, the countless accessories and products will allow you to buy something for your kids, so they can show their support as well. That's the beauty of our Disney collaboration. If you want to buy the pride collection for yourself, you are most welcome to do so. However, you can also buy stuff for your children. If they like Disney, there is a good chance that some products at Cerdá will be interesting to them.
You might also be interested in: New lifestyle collection
Cerdá and Inclusivity
Cerdá believes in equal rights and opportunities for every human being. Our collection shows our commitment. By selling such goods, not only will we promote the LGBTQ movement but we will also act as responsible global citizens to make things easier for our fellow human beings.