Licensed products for adults: the Mandalorian
The one thing that helps a business considerably is licensed products. If you have a license to produce merchandise for a T.V series, the licensing authority would hold you responsible for making high-end items. The more intuitive ways you find to market the series, the better it is for its audience. The Mandalorian already has a very avid fan following, partly because it belongs to the Star Wars saga and partly because it is a well-constructed fantasy series. To get the Mandalorian license, a company has to be competent and reputable. We understood that which is why Cerdá stepped forward and took responsibility. The licensed goods are a sure-fire way to earn sales and attract customers.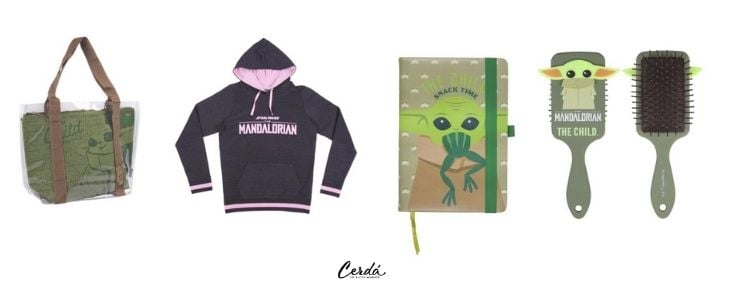 The Mandalorian backpacks
We are expanding our merchandise list to include more products but for now, Mandalorian backpacks for kidults are our main item. The backpacks were so well received that some of the articles have already been sold out. But that shouldn't discourage you from looking more. The Mandalorian collection has several backpack designs, which are suitable for any adult. The bags are so good that even if you are not a Mandalorian fan, you will find them attractive.
Moreover, there are handle bags and shopping bags with the Mandalorian theme. These articles are particularly cute and trendy. But if you want to go one step ahead, the Mandalorian brush is also available. You can get a travel kit, a toilet kit, a pouch, and notebooks to complete your collection. New items will be added and brand-new backpack designs will also make their way through to the shelves.
You might also be interested in: Cerdá Disney Pride Collection
Clothing and accessories for kidults
Themed clothes are very popular nowadays. You will see many people wearing merchandise belonging to their favorite T.V franchise or cartoon series. The trend is picking up pace in the young adult demographic. The adults who are still sensitive about their childhood love relive their old memories by wearing their favorite characters.
Nowadays, you can get everything from clothes, pajamas, socks, and other items to complete your look. The new style statement you make will inspire others and convince them to choose trendy clothes over boring ones.
Stationery products of Grogu
Children can also take advantage of current trends by following their elders. But even if they don't, kids can make their style and force others to copy. The one thing children love is stationary, and they want stuff that reminds them of their favorite cartoon character. The Mandalorian stationery set for kids is the perfect article for those kids that love Grogu and who enjoy watching the Mandalorian series.
Children can buy a notebook, a notebook display, and a stationary set on the Mandalorian theme. Currently, there's only one backpack for kids, but they will soon be added to diversify the Mandalorian range.
You might also be interested in: New lifestyle collection for adults
Why are licensed products for adults a good bet for your store?
Children do not frequent stores, and when they do, they are accompanied by someone older. It is the adults that are commonly found in shopping centers. So, it is wise to target the adult population and especially the kidult population that loves buying trendy stuff.
However, you have to convince the young adults that you are selling top-quality products that they will not find anywhere else. Licensed products can make this a reality. These licensed goods are privately made, which means there are no copies for that design. Plus, the customers get the satisfaction of buying 'official merchandise'. The idea drives sales and helps build a positive relationship with the customers.
At Cerdá we have everything you need to succeed in the licensed products market. Contact us to launch your sales!