We all know that superheroes are fictional, and yet - despite the fact that we've become adults and maybe have our own children - we can't forget what they meant for us when we were kids and we can't stop loving them. As an entrepreneur, we should be aware of it: superheroes never go out of style.
Superheroes are extraordinary humans, they often have powers, and - above all, they help people, usually defending the innocents and weak against the bad and powerful guys. However, superheros' stories are so compelling that the public often gets attached to villains too: the Joker from Batman, or Loki from the Avengers, and many fans' favorite characters.
People all around the world started getting to know superheroes from the 40s when the prototype of all superheroes appeared in the comics: he was Superman, and all the ones that follow wouldn't be here if it hadn't been for him. From then on, superheroes have lived a sort of Golden Age thanks to the comic and TV series.
For some time, superheroes weren't that attention-grabbing anymore but everything changed with one film; it was the first Iron Man, the first movie of the Marvel Cinematic Universe that shook the world of Cinema and merchandising and gave superheroes their second Golden Age.
Always following the trends of the market Cerdà has long started their collaboration with Cerdá to provide shop owners and managers with the best, licensed, Marvel products. Let's take a look at Cerdà's Marvel products collection.
You might also be interested in: Light shoes for kids
Marvel wholesale backpacks for kids and adults
The fans of superheroes are children and adults as well. With the Kidult fashion growing in popularity, more and more grown-ups are proud of showing their childish side especially with the accessories they wear every day.
With this in mind, Cerdá realized a collection of backpacks for both kids and adults. Backpacks for kids have smaller sizes, are more lightweight, and have pockets and sections that are thought to be useful for school (for example they have the traditional pocket for the morning snack). They can also have 3D elements, like Mickey's ears or others.
Every version is made from resistant, durable, and waterproof material: it can be polyester, PU, or EVA.
Cerdá's collection includes all the most famous Marvel characters. They are usually the ones that are part of the Avengers team: Iron Man, Captain America, Thor, Hulk, and the full Avengers squad altogether.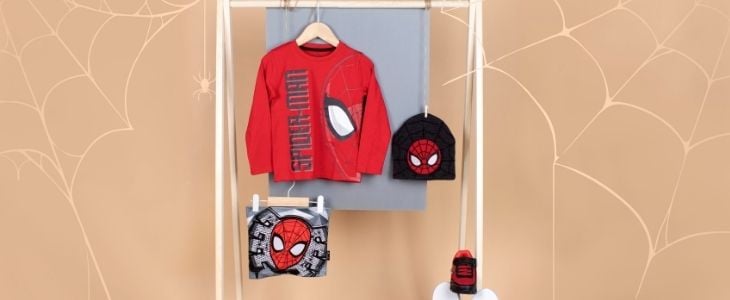 Marvel wholesale clothing
Cerdá distributes a collection that includes clothing for all ages, from baby clothing to shirts and outfits for teenagers and young adults. The choice of the characters that decorate the items is always made with the age-rage and the relative trends in mind. That's why Marvel wholesale clothing is concentrated in the pre-school, school, and teenage age range.
Children between 2 and 4 are usually more attracted by simpler characters such as Peppa Pig or Paw Patrols, but as soon as they turn 5 or 6 they start to get interested in superheroes, their comics, and their films.
Other than different age ranges, the Marvel clothing in Cerdá's collection includes items for different categories: nightwear, beachwear, winter, and summer clothing. They are suitable for clothing stores but also for gift shops or even stands located inside comic shops or similar. The items celebrate the singular superheroes, such as the green Hulk hoodies, or the blue Captain America ones, but also the Avengers as a team, or Marvel itself with his big red logo on the front of hoodies and sweatshirt.
You might also be interested in: Wholesale Disney Backpacks
Marvel accessories for your store
Marvel accessories are a great opportunity to increase the sales of any store: they are so versatile that you can expose them in an entire section, on a small stand, or even display them on your counter.
Accessories can find their spot in clothing stores, gifts and comics shops, and even retailers specialized in geek accessories. Cerdá's catalog for Marvel accessories is wide and varied.
Marvel socks are ideal as a gift that clients love to make to themselves or someone they love. They're a simple and cheap way to put a smile on the face of a friend, child, or adult.
Furthermore, there is an entire section that Cerdá has dedicated to Marvel accessories. It includes: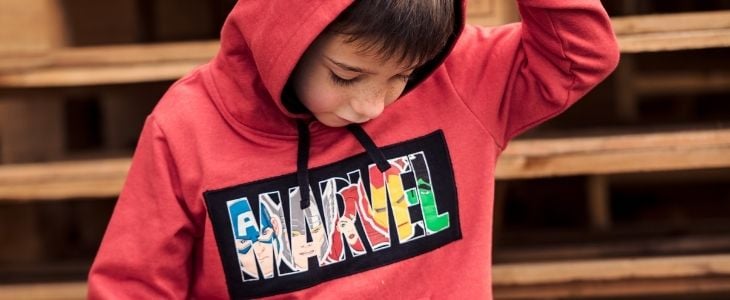 Marvel wholesale footwear for kids
Cerdá is also a footwear wholesale supplier for your stores. The shoes in Cerdá's catalog are in full Cerdá-style: they are all decorated with children's favorite characters, and Marvel's superheroes could not be missed.
Again, it's the footwear for children from 6 years old up that's dedicated to these characters, because younger children are more interested in other characters and stories, such as Baby Shark - for example.
The Marvel footwear collection includes:
Sports shoes, perfect for the winter, to go to school and special occasions as well;
Sneakers, for the everyday activities;
Flip flops, for the house or summer days spent in the swimming pool or beach;
Boots, for the coldest days;
Sandals, for the hottest days;
Aqua shoes, for the youngest's safety, when they play in the water.
Cerdá wholesale marvel products
Cerdá Marvel Products are all provided with the original license from Marvel, thanks to a collaboration that has been standing for decades between Cerdá and the greatest superheroes' creators in the world. Marvel products are also included in the rain accessories catalog, school supply, Fan For Pets line, and more.
People's love for superheroes shouldn't be underestimated. When we're children they provide fuel for our dreams. When we grow up, they remind us of our innocence, childhood, and dreams. Everyone loves items that remind them of something that is, after all, nostalgia and joy. Cerdá understands such feelings and provides for your store, retailer, or online business, the Marvel products with design and built quality guaranteed. Boost your sales with Cerdá's Marvel products.