Creating your own style is fun. Fashion characters and accessories for kids and adults are lifelong inspirations, and you always want to accessorize with some cute characters. The Lifestyle collection lets you create your own story with inspiring and cool characters.
At Cerdá, we create your fantasy world with character accessories according to your taste and need. Pick up clothes and other accessories and find your favorite characters for your lifestyle. Obviously, everyone's taste is different. You can also choose other adult characters that inspire you the most.
LifeStyle Collection: for whom is this collection focused?
The Lifestyle collection is specially designed for kidults who like to add characters to their everyday accessories. Kidults are not afraid to wear "teen" goods in public, so there are tons of possibilities to offer these lifestyle products.
However, they usually look for accessories that can be used in everyday life, such as cardholders, pins, notepads, umbrellas, etc. On the other hand, clothing for kidults can be a little tricky, but there is nothing like sweaters and T-shirts with minimal designs or a little more serious than usual.
Visit Cerdá Group and find out what exciting bags, cardholders, stationery, socks, clothing and much more for your customers. Here you will see adult fashion characters and licensed products that you will not find everywhere and will be in the spotlight.
You may be interested in: Kidults, how can I reach them with licensed products?
Lifestyle collection has arrived to Cerdá
Lifestyle Backpacks Collection
In pre-adolescence, children are not too young, but fortunately, they still retain their childhood, innocence, and illusions so far. For this reason, they still want to carry their favorite characters in their backpacks, and at Cerdá, as backpack wholesalers, we also know what to offer them.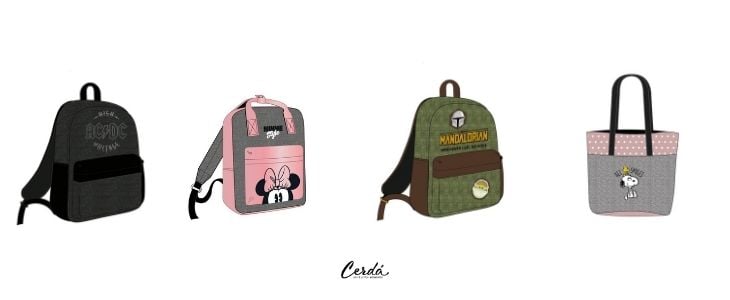 It's time to make your products and accessories less childish and more adult. With characters such as Harry Potter, DeadPool or ACDC you can offer to your kidults clients the most original backpacks of the market so that they can be accompanied with their favorite characters wherever they go. Check out these novelties, and don't miss adding them to your inventory.
New Handbags for kidults
Handbags never go out of trend. That's why Cerda Group brings a new handbag collection for adults.
It's full of fun with Disney characters, The Mandalorian and more; you can choose your favorite! Warmly welcomed for style, functionality and high quality, these Disney bags are comfortable enough to carry every day!
Card holders with their favorite characters
Cardholders are essential things for your child because they contain everyone's personality.
Cerdá knows that kidults love to wear stylish business card holders, which is why we offer a collection of Lifestyle business card holders for fans of Disney, ACDC or Harry Potter characters. Explore our catalog and get new and fun business card holders for your clients.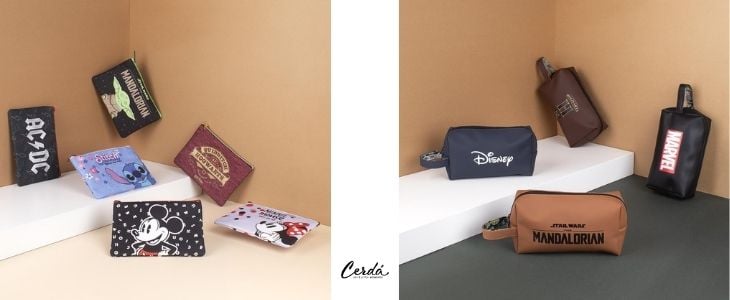 Stationery products for adults
Make your shop fun with our new collection of stationery products. Our new Lifestyle stationery collection includes notepads, pens, paper clips, stickers and more! We know how important these products are to your customers. We aim to surprise them with the best stationery sets from their favorite characters. These stationery items are made from high-quality materials, so don't wait to update your store shelves right now. !
Original socks Collection
Being an adult no longer means giving up on character accessories or nodding to your favorite characters now and forever. Now adults also want to take their favorite characters with them everywhere.
That's why Cerdá brings you a wide range of adult casual socks. Don't miss all the adult characters in a beautiful pack of socks in your inventory. We're confident these premium socks will boost your sales!
There are many adult add-ons available at Cerdá Group, and you can choose them to make your store a real fantasy for your clients. Discover everything in our Lifestyle catalog and bring your favorite character to life.