Time flies by and it is very important that your business is always prepared to welcome the new season.
Trends are changing, tastes and even favorite characters and, at Cerdá, as wholesale stationery specialists and distributors of licensed products, we work tirelessly to offer you the best and most anticipated products at different times of the year.
On this occasion we want to present you the new BTS 2021 catalog from Cerdá, which includes the most innovative products for going back to school with the licenses of the characters of the most loved by your customers.
Take a look and get ready to increase your sales!
Children's backpacks for kindergarten
During the first 3 years of life, many children go to nursery school, where they begin to socialize and learn outside the home.
This is the time when innocence is purest and sharing their day-to-day with their favorite characters helps them foster their imagination and integrate more easily with their peers. In addition, parents are eager to acquire everything that makes their children feel happier and safer and they will come to your establishment looking for the best for them.
For this reason, at Cerdá we have prepared different types of character backpacks according to their age. So you can offer them a wide range to choose from.

For example, children's backpacks with 3D applications, light and comfortable handles, embroidered details and embroidered faces of their favorite characters as well. You can offer Minnie, Mickey , Grogu, Baby Shark and much more
But that's not all, because in our catalog you can also select the new backpacks with a strap, which will provide parents with the security and peace of mind of being able to always carry their young children well controlled.
Backpacks with stuffed animals, shoulder bags with stuffed animals, key chains, nursery bags ... everything that your customers may need for their children's nursery can be offered with the products from the Cerdá catalog.
Backpacks for school children
For children, going to school is an adventure. Although they are still small, they feel great and that accompanied by their faces of happiness and satisfaction, is priceless.
That is why you need the most fun and original character backpacks, to be able to share their most fascinating adventures with their friends.
In our catalog, you can find children's backpacks in 3D, with or without wheels, complete school packs, with umbrellas, backpacks, sleeping bags, water bottles and cases. And of different characters, such as Mickey, Minnie, Peppa Pig, the Paw Patrol, or Baby Shark.
But you can also offer them the funniest backpacks with 3D plush mobile applications, from Frozen, SpongeBob, Thor, Dumbo ... and our latest news! The confetti backpacks!
Backpacks for teenagers
In pre-adolescence, children are not so young ... but, luckily, they still retain their innocence, childhood and illusion. For this reason, they still want to carry their favorite characters in their backpacks and at Cerdá, as wholesale stationery specialists, we also know what to offer them.
It is time to give a less childish, less baby touch to your products and accessories. With trolleys with 3D and wheels, of Frozen, Minnie, Mickey, the Paw Patrol ... for the smallest of this group and more "serious" backpacks, of Harry Potter, the LOL dolls or the Superheroes, with first level brands such as Marvel or DC Comics.
And, in addition to the backpacks, you can also offer them umbrellas, water bottles, toiletry bags, fanny packs, wellies, raincoats, handbags, shoulder bags and a wide variety of stationery with their favorite characters.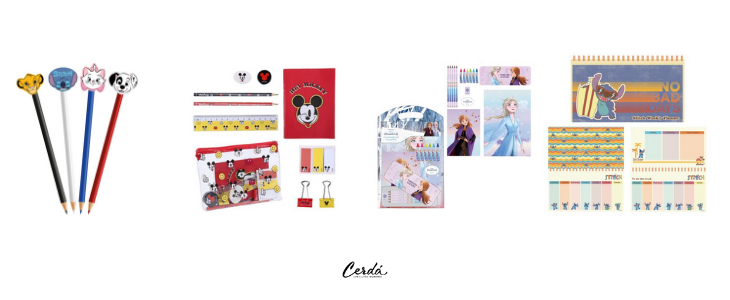 So now you know! Go back to school 2021 and offer your customers the most innovative, fun and beautiful backpacks of characters on the market, suitable for their different ages and needs. Enjoy selling your products and seeing how your customers feel satisfied with each purchase!