There's no single place on the planet free of Disney's magical influence. Their movies and characters shock the world every year, generating icons and making the youngest members of the family fall in love. So, betting on these license products in your business is a safe bet. Any doubts? Cerdá has been a licensee, manufacturer and wholesaler of Disney children's products since 1987 and will help you understand the reason for this phenomenon:
Disney items benefit from brand advertising and marketing. The annual investment is in the millions.

The demand for these articles is continuous and increases coinciding with the major premieres enlace a post Abril Disney movies 2019 - A year of classics!.

Disney has been connecting with children for decades. You can link your business to great values such as honesty, equality, the potential of teamwork or strength.

With the help of the Artesanía Cerdá advisory team and their reports on trends (enlace Bloc Licencias TOP John Wholesaler 2019), you won't fail with your Disney orders. We have exclusive information about characters, premieres and children's tastes.
Today we show you the best imaginable textile of the most emblematic brand in history. The Disney textile that Cerdá Group designs, manufactures and distributes wholesale follows four unalterable maxims: quality, comfort, design and fashion.
Wholesale Disney Children's Clothes
As a Disney textile wholesaler, Cerdá's catalogue presents an enormous variety of categories. Today we show you the best options of the characters that children like the most. Remember that textiles may come with hundreds of complementary items such as hats, shoes, towels or sunglasses!
FOR GIRLS

Minnie is irresistible. Year after year, her success among the girls of the planet is renewed. Cerdá manufactures light dresses, beautiful two-piece sets, children's bags, pyjamas and t-shirts. We also have high quality ponchos and towels!
The Princesses are here to stay and are still the absolute protagonists of children's imaginary. Cerdá manufactures and distributes light dresses, swimwear and T-shirts. Basic clothes that can be worn and are never out of date.
Frozen's characters are undoubtedly the new female Disney icon. The film is the biggest blockbuster of the factory and continues to cause sensation among the little ones of the house. Among the wholesale Disney children's clothing focused on Elsa and Anna, it is possible to highlight beautiful dresses, t-shirts, sets of two pieces and pajamas. In addition, as a swimwear wholesaler, we have exclusive swimwear.
FOR BOYS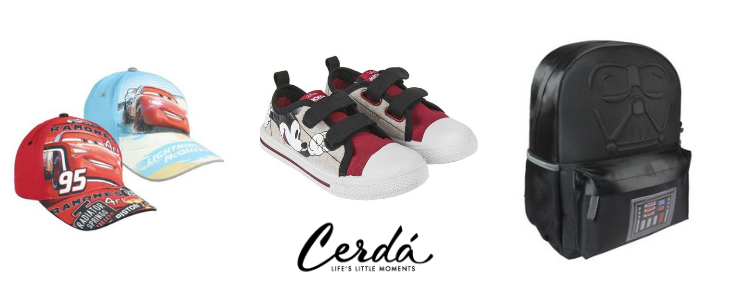 Swimsuits, two-piece sets, t-shirts, shorts... Spiderman products appeal to both young children and pre-teens. Discover Cerdá's Spiderman clothing and increase your sales!
In 2018 Mickey turns 90 years old but this little mouse does not age with time. Mickey is adored by children and their parents. His image is so popular that the demand for the character's articles keeps growing. At Cerdá, we have T-shirts, pajamas, swimwear and countless Mickey Mouse products
The craze for Cars has grown year after year with each new release of the franchise. The success of this series is reflected in its sales power. Responding to this demand, in Cerdá we are manufacturers and wholesalers of children's clothing Cars. T-shirts, two-piece sets, swimwear and even boxers make up our catalogue.
The recent premieres of Star Wars movies make this franchise become the most successful saga in history. Everything that Han Solo and his friends touch becomes gold, that's why at Cerdá we have completed our licensing catalogue with unique clothes, created from exclusive designs and thought to please children and parents. We have t-shirts, sets or swimwear.
Are you looking for a Disney wholesaler?
If you're looking for wholesale Disney products you've just found the solution to all your problems. At Cerdá Group, we are designers, manufacturers and suppliers of Disney children's clothing. In addition, our service of commercial advising will help you to make the most intelligent order, optimizing your investment and avoiding risks.
Cerdá and Disney can help you make your business grow!