The children's spring-summer 2019 fashion trends stand out due to their glitter, sequin and metallic colors, in addition to navy print and grey melange. Apparel will take most of the sales. We let you in on all of trends and new products that were added to Cerdá Group – your children's and senior licensed product distributor. Take a look!
---
Before stocking up your gift shop on textile products, it is very important for you to learn about the new children's spring-summer 2019 fashion trends, and the characters that will be on high demand. At Cerdá Group we distribute children's licensed products, and always design and manufacture licensed products that are in line with fashion trends and the characters that offer the most sales (enlazar post 6). Our items will help you stand out from the competition, bring customers to your store and, overall, increase your business profits.
Children's spring-summer 2019 fashion trends
1. Trending characters for spring-summer 2019
Disney classics are still trending and will remain a strong trend this spring-summer 2019. The star of the season is Mickey – this year it will be 90 years since Steamboat Willie appeared on film and became the icon of Disney. Meanwhile, both Mickey and Minnie are trending and we can see them in clothes targeted at children, teens and adults.
A remake of The Lion King , directed by Jon Favreu, will premiere in July, 2019, and it will make the characters of this musical trendy once again. In March, 2019, Dumbo, directed by Tim Burton, is expected to premiere; and Aladin, directed by Guy Ritchie, will premier in May of this year. Both movies will be adaptations with real characters. These two films are generating a lot of expectation, which is why their characters will be trending this spring-summer 2019.
Stitch, Donald Duck, secondary characters such as Chip & Dale, The 101 Dalmatians, Marie – the protagonist of the movie 'The Aristocats' – the funny cup of The Beauty and the Beast and the villains in princess movies are some of the classic characters that will be trending this spring-summer 2019.
Avengers: End Game will premiere in Spain in May. Fans of The Avengers will find products with its characters, and new superheroes such as Thanos, the supervillain will also be trending.
Cerdá Group is staying one step ahead of the rest of the licensed product companies, and we will be one of the first to design products related to the L.O.L. Surprise dolls. A fandom has emerged around this character, and its fans will also want to have clothes with these characters. L.O.L Surprise products can't be missing from your store (enlazar con post 8)!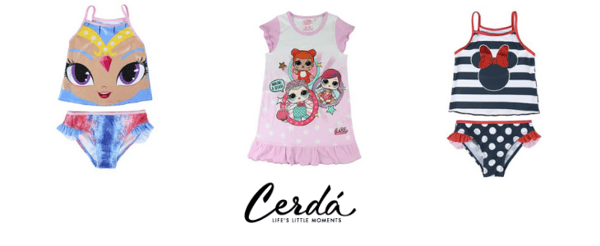 2. Types of clothes and accessories that will be trending this spring-summer 2019:
● The tankini: this is a swimsuit composed of two pieces: the bikini briefs and a strapped top. At Cerdá Group we have designed tankini models bearing Minnie, The Little Mermaid, Marie the Cat and the Shimmer & Shine genies.
● Nightdress: fantasy gown pajamas are comfortable sleepwear that fans of licensed characters will love. Cerdá has designed reversible versions for Minnie Mouse and Frozen, the snow queen.
● Sunglasses: The trend for this spring-summer 2019 will be for parents and children to wear the same sunglasses!
● T-shirts of superheroes such as Batman and the most famous wizard, Harry Potter, both for children and adults. Now at Cerdá you can find a line of Mickey and Minnie shirts in the most important cities in Spain with velvet designs. This is a reinvention of sorts of the souvenir that is seeing significant success among customers of licensed products.
3. Design trends for spring-summer 2019
● 'All-Over-Print': this is a type of print that repeats itself across the entire piece of clothing. At Cerdá we have designed Mickey, Minnie, Vampirina and Avengers t-shirts with this 'All-Over-Print'.
● Sequin and metallic colors: Fans of sparkling and glitter can celebrate, because sequin is once again trending for all types of garments. Cerdá has designed Batman and Star Wars T-shirts in metallic colors and T-shirts of Minnie , 101 Dalmatians and Captain America.
● Mermaid print is taking over spring! A magical look with shiny fabrics and clothes full of beads are the confirmation of this sparkle fever. Cerdá Group has designed a Little Mermaid T-shirt with metallic and glittering fabrics .
● Navy Stripes: striped outfits are a classic of the spring-summer season, in navy blue, white and/or red and combined with trending licensed characters. Cerdá has designed T-shirts with striped backgrounds and characters such as the Harry Potter and Minnie.
● Tropical Camo: this is inspired by animals that blend in with nature. Series of tropical birds, tigers and reptiles over lush designs.
● 'Monster Vacation': monsters are the stars of many clothes, where they can be seen playing, doing sports or on the beach. They are joined by original details, patches, glitter or capes.
● 'Summer Camp Girls': these are trending in pastel and vivid colors , with a romantic touch that evokes nature.
● Miami Pink: flamingo, palm leave and flower print, inspired by the city of Miami in the 50's. Green, fuchsia and turquoise over a neutral background that makes the other colors stand out.
● Clothes with Messages: designs with messages are all the rage, and at Cerdá we have designed T-shirts with trending characters such as Mickey.
4. Materials that will be used in spring-summer 2019 designs
● Glitter and metallic colors: in line with the sparkly trend, these materials make clothes even more sparkly.
● Sequins: one of the textile trends that is most welcome by children. They love sparkles, and especially clothes where the sequins are reversible and the drawing changes when sliding your hand over them.
● Grey melange: this is a trendy shade of grey that you will notice in almost every textile this spring-summer 2019.
● Striped cotton: cotton is a quality material that will see a lot of use this spring-summer season to manufacture clothes with a navy design.
When spring and summer arrive, it will be important for you to decorate your storefront following a sales strategy in a way that helps you allure customers to your gift shop and gain the loyalty of those that are already your clients. Furthermore, you will need to take good care of the product selection that you will carry. At Cerdá Group we have a track record of over 30 years in the licensed product sector. We keep track of the trends to design, manufacture and distribute products related to trendy licenses. With our licensed products you will attract customers and make your business profitable!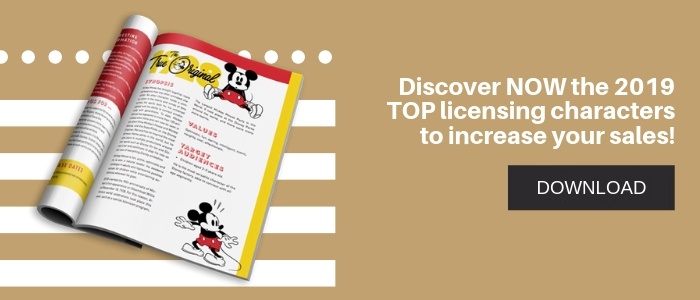 ---