Licensed products know no age boundary. This is an increasingly verifiable fact, one to which companies are responding by generating licensed products not only for children and teenagers, but also for late teens and adults.
It remains true that licenses targeted at young children still rule the market, but that prevalence is dwindling and offers targeted at kidults are growing exponentially, increasing in turn the spectrum of sales opportunities.
You might be interested in: Kidults, what are they and why are they important for the licensing sector?
The nostalgia effect among adults of all ages allows them to identify with licenses originally designed for a younger audience and for them to want to proudly wear hats, backpacks or shirts of the characters that accompanied them during their early life.
As already stated, licensed products know no age boundaries. But licenses, in many cases, do. While we have evolved toward a much more multigenerational business outlook where licenses are targeted at all ages, there are others that are clearly aimed at one age range.
There are a number of thorough studies that are performed before designing products for a child, teenager or adult consumer. Everything is painstakingly analyzed so that each product clicks and works, which is why below we want to show you licenses produced based on the age of the end consumers to which they are targeted.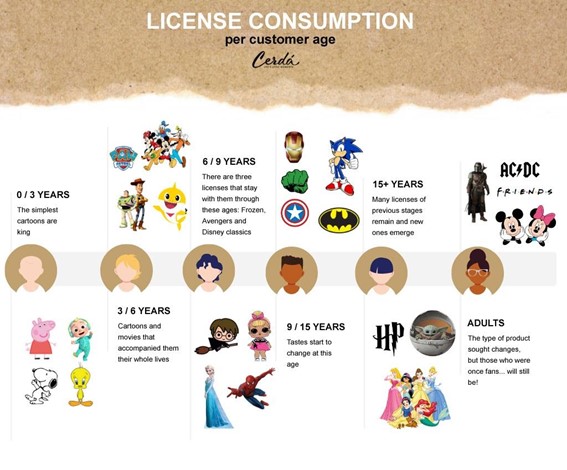 Licenses for babies (0-3 years)
Designing, producing and selling products for babies is intrinsically linked to a great care and design where the simplest cartoon characters are king. Especially worth mentioning are:
Disney classics
Although, as we will see, Disney accompanies all ages into adulthood, there are some characters that stand out at this age. These go from the most famous of mice – Mickey and Minnie – to characters such as Dumbo, Bambi, 101 Dalmatians, etc.
Peppa Pig
This little pig so beloved by kids, and even her brother George, is a license that is perfectly suited to this age range. Because of the way that it is narrated and for the characters of this series, Peppa Pig and her family dazzle children since a very young age.
Snoopy
Charlie Brown's dog is another classic character that has accompanied many generations, and parents will be thrilled to buy products bearing its design for their younger children.
Cocomelon
Content consumption channels are evolving, and YouTube is increasingly becoming a powerful channel for the little ones as well. Cocomelon is an American channel developed on this platform with educational purposes. Through very simple songs, it teaches kids about everyday actions and situations. It is a resounding success!
Warner Characters
Tweety, the Tasmanian Devil, Bugs Bunny and Lola Bunny are only some of the Warner characters that lead the products for newborns and babies.
Children's licenses (3-9 years)
Children aged 3 to 9 should be subdivided into ages 3 to 6 and ages 6 to 9, since there are substantial differences between one age range and the other. However, there are three licenses that stay with them throughout their childhood: Frozen, Avengers and Disney classics.
Frozen
Since their appearance in 2013, princesses Elsa and Anna revolutionized the entire licensing sector, and today, their success is still overwhelming. Many say that Frozen will become yet another Disney classic, since it is expected to be handed down from generation to generation.
Avengers
Captain America, Iron Man, Spiderman, Thor, Hulk, Black Widow… these are only some of the characters of the Marvel saga that has not only enamored the little ones, but also, in many cases, also their parents. Therefore, the opportunity to make sales is right there – fans of the saga can't get enough of their products.
Disney princesses and classics
Disney classics are a must at these ages. Snow White, Jasmine, Pocahontas, Belle, Cinderella, Ariel and others are a smash hit among children's products. And in this they are joined by none other than Mickey and Minnie.
Licenses for ages 3 to 6
In regard to the subdivision that we mentioned above, there are a series of characters that are more sought-after at this age range. Among these we could mention:
Who hasn't sung Baby Shark's famous song at least once? This song became a hit ever since the Pinkfong YouTube educational channel used it in one of its videos.
This adventure and comedy cartoon starring eight dogs gets young consumers hooked with their hilarious problem-solving skills.
The greatest success of this movie studio is, without a doubt, Toy Story. Woody and Buzz Lightyear remain among the favorite children's characters despite the passage of time.
This French series has crossed borders and became a success here as well. Everyone likes superheroes and, in this case, when evil lurks in the city, Adrien and Marinette, two teenage friends, transform into superheroes to restore the peace.
Licenses for ages 6 to 9
In addition to Frozen and Avengers which, as already said, are common among both age ranges in children, between ages 6 to 9 there are a series of characters that stand out among the rest:
The most famous wizard appears at this age to stay throughout the growth process. He is, undoubtedly, a resounding success in the world of licenses due to the vast amount of fans he has and because he is a world phenomenon that travels from generation to generation.
This superhero by DC Comics is still a favorite, and has managed to remain in that position despite the success of Marvel's Avengers. As we will see, he is among the favorites of adults as well.
Having needed no movie or series, the LOL Surprise dolls have become a world sensation. It is, undoubtedly, one of the leading licenses at this age and, commercially, a safe bet.
Sonic is the star of its famous namesake videogame produced by Sega, which later turned into comics and cartoons.
Licenses for teenagers (ages 9 - 15)
Tastes starts changing at 9, and so does – significantly – the preference for specific licenses as well. Even though some characters remain (and others are added), these changes particularly reflect on the type of products for one same license. These are the preferred licenses among teens:
Harry Potter
During the teenage years, Harry Potter remains one of the most beloved characters among consumers. While it is true that the young wizard is more demanded in products with a less childish aesthetic, he is, without a doubt, a best-seller for any business.
Disney Classics
All-time classics Mickey and Minnie accompany us since we are born and don't let go even into adulthood. During the teenage years they start appearing on different products; they are more present in bags, t-shirts and caps. The type of product evolves, but these licenses remain steadily successful.
Sonic
The fastest character in videogames still accompanies consumers through adolescence, an age in which videogames often become yet another hobby.
Marvel
The Marvel saga par excellence, Avengers, remains a leader at this stage in life. But no longer are they, Hulk, Captain America and their friends the stars of the products – Marvel itself gains importance and consumers invest in products about the company itself. We start seeing t-shirts, caps and other products with the Marvel logo.
Star Wars
During the teenage years, Star Wars starts appearing as one of the licenses demanded by consumers. Even more so since the release of The Mandalorian series. The Child has become everyone's favorite and has strengthened the demand for this license.
Licenses for late teens and adults (aged 15+)
Starting age 15 new licenses appear, but most from previous stages remain. Of course, just like in the teenage stage, the type of demanded product changes and, in particular, the design style. The licenses that stand out among the rest at this stage are:
Star Wars and The Mandalorian
People in their late teens and, in particular, those who are now adults have grown up with this saga. Star Wars is bound to their lives and growth, accompanying them at every stage, which is why those who were Star Wars fans at a young age, still are, and they still want to consume new products related to the saga. The release of The Mandalorian and its characters, with The Child being the most beloved character of them all, is a guaranteed success to increase sales.
Harry Potter
Almost the same happens with Harry Potter. Those who read his books and then saw his movies are between 30 and 40 years of age and are still fans of the young wizard and everything about him. He is a guaranteed success when selling products for late teens and adults.
Disney Classics
Mickey and Minnie are lifelong partners, which is why the nostalgia factor is of great importance when considering them an important license for an adult audience. The will to feel like a child again means that all products designed based on these and other Disney characters (Princesses, Marie, 101 Dalmatians, etc.) are a success.
Marvel
Just like during the teenage stage, Marvel is not only at the lead thanks to the Avengers, with Captain America, Thor and their friends being the most important. At these ages, Marvel sees great success as a brand, and the sweatshirts, caps, school bags, t-shirts, etc., bearing its logo are sure to sell.
Batman
The superhero par excellence outside the Marvel universe has many adult fans, and it will always be a good idea to take him into account when choosing a license. Batman always translates into sales, even more so among adults.
AC/DC
The hard rock band par excellence is a synonym of a lifestyle, rebelliousness and enjoying today without waiting for the future. Fans of the band are hardcore, and that makes this license a guaranteed success.
The phenomenon brought about by this group means that not only its fans buy their products and designs, but also those who face life with the philosophy mentioned above, because AC/DC has transcended music and is much more than that.
Friends
This most iconic comedy show has accompanied different generations since 1994, turning them into true fans along the way – people willing to collect any product there is about the show, which makes this license a must on the late teen and adult market.
Licensed products are, without a doubt, a great opportunity to increase sales, since the branding effort is pretty much already done. These are well-known characters with many followers in tow, which makes the job easier.
At Cerdá we work with the best brands in the world of entertainment to offer a wide range of options to our clients. We design and produce each of our collections with sights on current trends and always focused on our clients and their needs. Get in touch with us and we will help you find the products and licenses that are best suited to your point of sales.