Marvel Premieres for 2021
Having been short of delivery in the year 2020, viewers of Marvel Premiere look up to 2021 with optimism. One question raging through the mind of everyone is about how much of the Marvel classics should they expect? Below are however a list of the exciting Marvel Premieres 2021 innovations that can help promote your product sale:
Black Widow - made in Budapest, Black Widow is a movie starring one of your most loved Avengers characters in the person of Natasha Romanoff who is persistently striving to face the troubles haunting from her past.
Spider-Man: No Way Home - this is another blockbuster of the marvel comic series fashioned along with the popular spiderman character. The production of this movie is a partnership between Columbia Pictures and your favorite Marvel Studio and with an expected release date for December 2021.
You might also be interested in: Winter footwear collection novelties
Eternals - slated for November 5, 2021 release, the movie is best described as a battle for earth's preservation between the supposed destroyers (Deviants) and a group of saviors who happened to be an immortal alien race. This is nothing short of an introduction of new Marvel comic characters for designers and viewers' pleasure.
Shang-Chi and the legend of the 10 rings: - this among the latest and culturally diverse of the Marvel superhero classics with an expected release in September 2021. The movie 'Chang-Chi and the Legend of the Ten Rings' not only creates a reawakening of the age-long kungfu feeling of Steve Englehart and Jim Starlin in the 1970s but also comes with an introduction of lots of exciting characters from Hong Kong.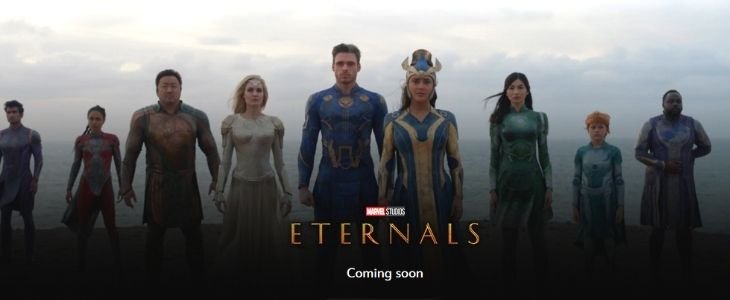 How Marvel's premieres can enhance the promotion and sales of your products
The sales promotion capability of Marvel premieres no doubt transcends its history of survival and brand popularity. Rather, it is in the identity with which the lovers of Marvel movies lovers share with the Marvel superhuman and comic characters which had now influenced their choice of designs for bags, clothes among several other accessories. Below are however a few sales promotion advantages of the Marvel Premieres:
Enhances Search Engine Optimization - With the mention and association of the Marvel Premieres to the associated products and brands, the sales promotion idea of Search Engine Optimization is better enhanced for the product being projected. This will not only enhance sales but also promote product visibility.
Gives New Designs Ideas - the creation of new Marvel Premieres often comes with new characters, scenes, and events which often and subsequently gives designers of

Marvel products

ideas for new designs. This can be in the form of a new shape, or even a trend for specific product categories thereby enhancing sales promotion initiatives.
You might also be interested in: The Mandalorian licensed products for kidults
Sustains Narrative, Story Line, and Customer Retention - every past Marvel Premiere is either the continuation of a storyline or the introduction of a new one. This process; like the change of designs and season kits by football clubs, also brings about a change or modification to the existing characters and designs of Marvel-related products thereby enhancing the sales promotion drive of its consumers. New Marvel Premieres also complement sales promotion ideas because it makes the fans and lovers anticipate

new marvel products

alongside the expectation of new Marvel Premieres.
Enhances Brand Identity - new premier movies can also help to sustain brand identity. This is because the introduction of a new storyline often comes with complimentary new product delivery thereby helping in sustaining the identity with which specific groups of consumers had with certain brands and marvel products. With this sustained identity thus comes sustained patronage vis-à-vis better sales promotion ideas.

More Marvel Films to Expect in 2022 for new sales promotion ideas
With loads of upcoming blockbusters to grace the viewing pleasure of marvel premiere dedicated clients in 2021, the company is continuously aiming for a better delivery come the year 2022. The following Marvell Premieresare expected to grace the sales promotion ideas in the coming years - Thor: Love and Thunder in May 2022, Black Panther: Wakanda Forever for July 2022. The Marvels in November 2022, Ant-man and the Wasp: Quantumania in February 2023, and Guardians of the Galaxy 3 in April 2023.
At Cerdá, after more than 30 years working with Disney, and other licensed products, we know how important it is to be updated with the latest trends and characters. Join us and be part of the Cerdá Family!