Winter brings with it a host of opportunities in fashion and accessories that brighten up the coldest days of the year for consumers and make it easier for businesses to boost cross-selling to increase their profits.
The rain doesn't have to be boring if you have the perfect umbrella to enjoy it!
At Cerdá, as wholesalers of clothing and accessories, we care about your business, your customers and your results, which is why we are constantly bringing you new products with original and fun licenses so that you can change your stock and attract more customers. In addition, we keep changing our products so that you can continue to surprise your public.
This time we are going to present you the new wholesale umbrellas that you will find in our catalogue.
So you can enjoy comparing them and selling them to your customers!
Enjoy your work, enjoy your passion and enjoy life!
Umbrellas for everyone
Umbrellas are an essential accessory for everyone. They are useful, practical and extremely necessary and when it comes to children's umbrellas, they are the most fun, original and creative.
Rainy days can be a real show of laughter, fun and joy.
Luckily, the new trend among consumers is to enjoy each and every one of the things in life, to wear the products that best suit their way of being, and to carry the products of the most fashionable characters that they like the most.
That's why at Cerdá we offer you a wide variety of wholesale umbrellas for boys and girls, teenagers, adults and adults with which you can increase their shopping experience and satisfaction.
Check out our catalogue and let yourself be carried away by all the novelties you'll find in it!
Folding umbrellas
Wholesale umbrellas allow us to include all types of umbrellas in our catalogue so that we can offer our customers a wide variety of umbrellas.
We all have our own preferences and when it comes to umbrellas, this is undoubtedly also the case.
Many people, big and small, have a strong preference and predilection for folding umbrellas. Just like when it comes to winter shoes, summer shoes or all kinds of clothing. We always prefer a particular type or a more defined style.
Folding umbrellas are practical, comfortable and easy to carry. So they can be put in bags, school bags or school satchels without taking up too much space.
The original licenses we work with at Cerdá allow us to create unique, fun and original models, and also to adapt the folding umbrellas to the most fashionable and favourite characters.
For example, you can offer in your business children's umbrellas from the Avengers, Marvel, Batman, Frozen II, Harry Potter, Hogwarts, The Mandalorian, Minnie, Mickey, Spiderman...
They can also be automatic or manual.
Make your customers enjoy the winter showers!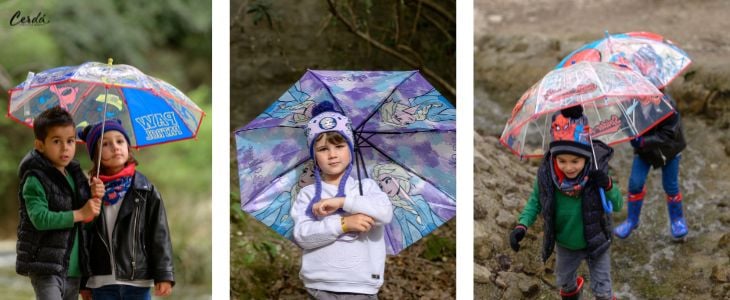 Automatic umbrellas
Another type of wholesale umbrellas that you can find in our winter collection are automatic umbrellas.
This type of umbrella is perfect for children, as they have a device that allows them to open the umbrella without the risk of hurting their fingers.
They have a width of between 71 and 90 cm, have 8 ribs and are made without PVC, so they are environmentally friendly.
All the models we offer are certified and approved according to European Union safety guidelines.
And you can select the children's umbrellas that best suit your audience, from the Avengers, Marvel or Minnie to the Mickey Mouse model.
Manual umbrellas
Manual umbrellas are the most popular wholesale umbrellas. They are comfortable, practical and come in a wide variety of models.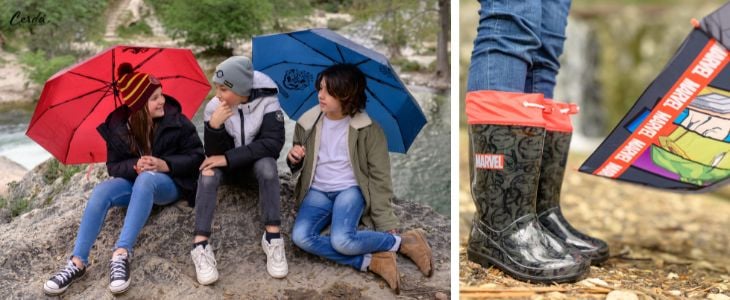 They have the same dimensions as the automatic umbrellas, with a width of between 71 and 90 cm, they also have 8 ribs and are certified and approved according to European Union safety guidelines.
You can choose the models with the most fashionable characters so that your customers have the most fun umbrellas for children and adults on the market, such as the bubble umbrellas of Avengers, Deadpool, Frozen II, Harry Potter, Minions, Minnie, Peppa Pig, Beauty and the Beast...
Transparent umbrellas
If there is one type of wholesale umbrella that is very fashionable and one of the trends that promises to stay next winter, it is the transparent umbrella.
They are different, unique and fun. At the same time they are comfortable and very beautiful.

They also have the possibility of being automatic or manual depending on the model, for children and adults, and the main characters can be Stitch, Mickey, Minnie, Spiderman...
Clothes and products for a warm winter!
As we have said, wholesale umbrellas are essential in winter so that your store can attract and retain more customers, but there are also other types of products for the coldest season of the year, which will help you to increase your sales and increase your profits.
Children's footwear is another must-have in your stock, and it will also make cross-selling easier as you will be able to offer customers different winter clothes of the same or different characters!
Don't forget to include the most comfortable and practical wellies on the market on your shelves, so that the little ones can enjoy jumping in the puddles and the grown-ups... too!
In Cerdá we offer you a wide variety of models, enter our website, discover our novelties and triumph!
So now you know! Get ready for the winter season and offer your customers the best umbrellas for children and adults that they can find. Help them enjoy every moment of their life with small gestures that fill their hearts.
Take care of your customers and get benefits for your company! At Cerdá we help you to achieve this.