This winter the trend is clear. 90's fashion is back and it's back with a bang. With strong references to streetwear, the winter 22 collection is marked by the resurgence of sweatshirts.
Back to the 90s
The search for familiarity and a sense of comfort, after the continuing period of uncertainty caused by Covid-19, has led consumers to take refuge in the 1990s. A decade where cassettes, giant helmets and Friends made millennials and generation Z feel at home.
Nowhere like home
And it is precisely the sweatshirt that is the quintessential garment for this winter. Known as the queen of streetwear, the sweatshirt is this season's star garment. From its origins as a sportswear item to becoming an iconic garment for hip-hop, skaters and teenagers, the sweatshirt is back as the emblem of the athleisure style.

A style that combines leisure, rest and play with an urban, casual and fun design, looking for comfort in every garment. At last, relaxation and style come together in an iconic, versatile and, above all, fashionable garment.
Sweatshirts for the whole family
Sweatshirts are a practical and comfortable garment. There are hooded sweatshirts and there are hoodless sweatshirts, for those who prefer a more classic style or more daring if you combine two sweatshirts of different colours, one with a hood and the other without.

The possibilities are endless. Single-colour sweatshirts or playing with different chromatic elements. Sweatshirts with printed designs or with small embroidered elements. With side decoration or just on the front or back. Cuffs, collar and hood in one colour and the rest of the garment in another?

At Cerdá we have developed designs so that your customer will find exactly the sweatshirt they were looking for in your shop. Because 100% licensed character sweatshirts are fun, original and appeal to adults and teenagers as well as boys and girls.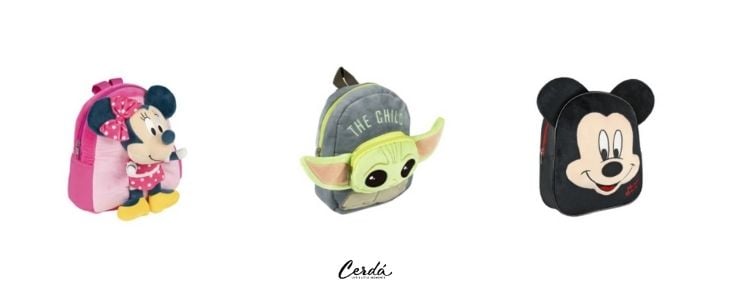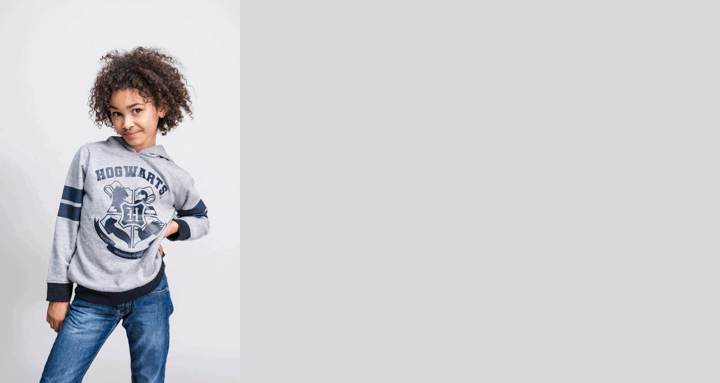 Adultos y su relación con las sudaderas
Sweatshirts for running, lounging around the house, going to the cinema or to work. Without a doubt the sweatshirt has become Channel's classic black dress. There is no bad choice when wearing a sweatshirt. Its versatility makes it possible to go to work combining the sobriety of the typical collared shirt with the casualness and naturalness of the sweatshirt.

Adults choose sweatshirts for the possibilities they offer in terms of style and features:
You can choose cotton hooded sweatshirts with hoods
Matching sweatshirt cuffs and collar
Hood with different coloured interior
Design on the side of the sleeves
Velvety smooth texture
Zip-up sweatshirt
At Cerdá we have created many different designs taking into account the latest trends and consumer tastes.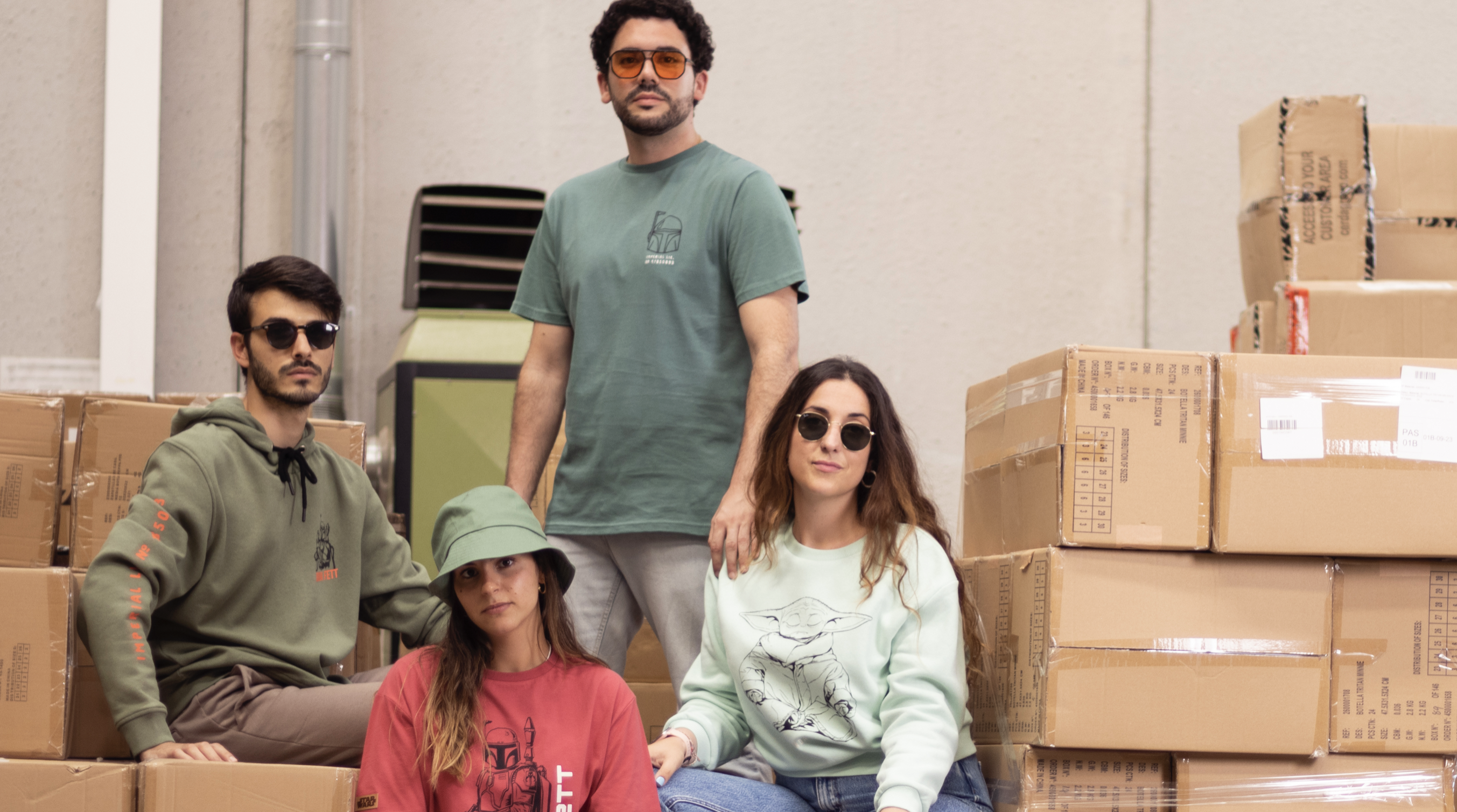 Much more than hoods
Do you know the sweatshirt-complete? It is a sweatshirt whose design takes advantage of the entire textile area to turn a sweatshirt into much more than a fashion garment. Batman, Spiderman, WonderWoman... whatever your customers' favourite character is, you will surprise them with these sweatshirts.
With these designs, the hoods are much more than just a part of the sweatshirt. The hoods finish the design by transforming the wearer into a real superhero.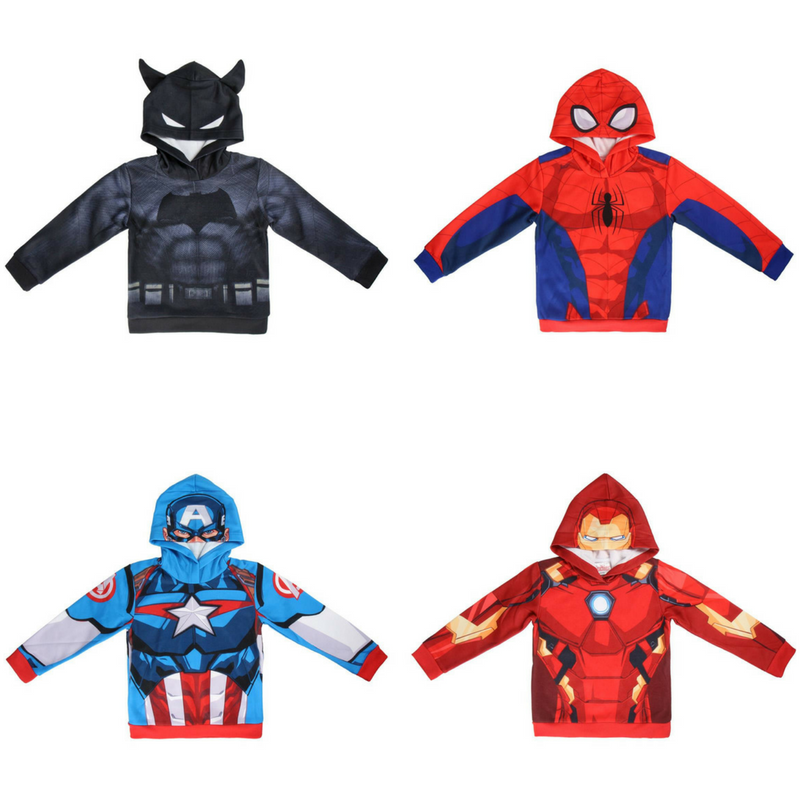 The cotton sweatshirt is printed all over. Sleeves, front and back and especially the hood emulating the philanthropist, genius and millionaire IronMan or the honest Captain America.
Sweatshirts, tracksuits and trainers or how to generate cross-selling
Cerdá-designed sweatshirts and tracksuits are the ideal product to generate cross-selling with items such as trainers. In our Retail Lab SuperMoments we have been able to see how a high percentage of the purchase tickets in which the customer buys a sweatshirt or tracksuit also include shoes or socks.

Have you read this?: Increase your sales by up to 30%
In addition, consumers who buy tracksuits usually complement the outfit with a matching sweatshirt. Therefore, considering this possibility, our designs are adapted to the tracksuit bottoms to be able to offer variety to your customers who want to be fashionable and comfortable, while at the same time protect themselves from the cold in winter.
The best gift for Christmas
Sweatshirts are the ideal accessory to give as a gift, especially at Christmas. That time of the year when you feel like wrapping up in warm, soft, loose-fitting and, above all, fun garments! At Cerdá we have developed a collection of sweatshirts for Christmas. Stitch, Snoopy, Marvel, Mickey or Minnie are some of the designs that your customers will love. Especially now that #uglysweaterday is becoming more and more relevant every year. Don't you know what #uglysweaterday is? On the third Friday of December it is customary to go to work wearing a Christmas jumper. This tradition originated in Vancouver, Canada in 2002. And it is becoming more and more common, as with all American traditions, that in Spain it is also celebrated with quite a lot of enthusiasm.

Main facts to keep in mind about #uglysweaterday:

One in three people under 35 buy a Christmas jumper every year.
Two out of five of these Christmas jumpers are worn only once during the season.
In Britain alone there are 65 million Christmas jumpers.


The magic of Harry Potter
Gryffindor, Slitherin, Hufflepuff or Ravenclaw, whatever your customers' favourite house is, you will be able to offer them a wide variety of items. Backpacks, pencil cases, sweatshirts, hats and scarves to match...

Harry Potter fans are going to enjoy combining different items from their favourite houses this year. From the youngest to the adults, at Cerdá we have thought of everyone because magic is not just for children.

You may be interested in: Looking for a Harry Potter wholesaler? Fill your shop with magic with Cerdá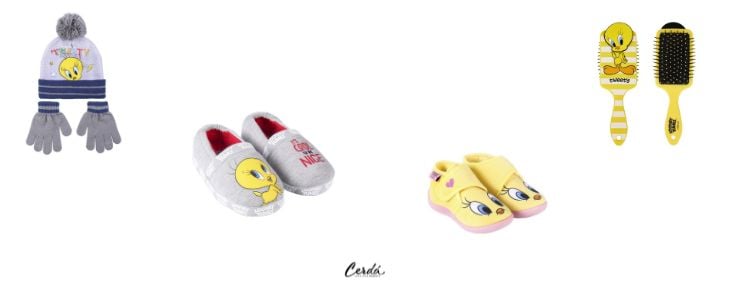 Discover the entire Harry Potter collection. From Back to School items to pyjamas to umbrellas, you can feel the magic of Hogwarts all year round, whatever the weather!