For more than 30 years, this company has been providing any kind of sellers with the newest and most trending items to grow their business and profit. But did you know that Cerdá also offers services for distributors? In this article, we will explore anything Cerdá can do for you!
What is Cerdá
Cerdá is a company that realizes merchandising items inspired to the most popular characters for children and adults. The company creates, designs, manufactures, and distributes its products. Other than that, Cerdá also offers continuous support to their clients: this is made through customer service plus a lot of educational material shared on their website.
All this material is aimed at sharing Cerdá's experience with their clients so that any seller can exploit the trends of the moment, display attractive shop windows, and have everything they need for their business growth.
Keep reading: What do you need according to the type of client you are?
Cerdá's collaborations
Behind Cerdá's work, there are its collaborations with all the major production companies in the world of cartoons, films, videogames, and comics. These are the most known companies in the world: Marvel, Disney, Warner Bros, Hasbro, and more.
These collaborations are extremely important because they allow Cerdá to provide their customers with products with an original license.
Cerdá, wholesale distribution of original licences
But why both physical or online stores and distributors should demand an original license like the one provided by Cerdá?
The original license is a very important document: it certifies that the company that produces a product, for example, with the design of Mickey Mouse, has obtained permission from the owner of the rights to the character - which in our example is Disney - to use that drawing and design to make those specific products.
The original license is therefore synonymous with originality: the products with the original license can exploit the original designs of the parent companies of the characters. All the characters and atmospheres are therefore highly recognizable (they are the same ones that children see in cartoons, comics, and video games!).
It might interest you: Why should you include licensed products in your shop
The original license is also synonymous and, in a sense, a guarantee of quality. When a production company grants a license for the exploitation of a character for the creation of some products, it also carries out quality control on the company. Following the example of Disney, the last thing that this company wants is to sell poorly made products with their brand on. This is why if a product is supplied with an original license, this means that quality control has already been carried out and that the designs, the manufacturing, and the materials will be the best around.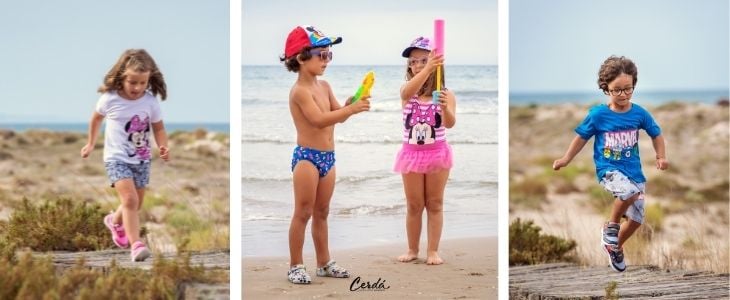 Who are Cerdá's clients?
Cerdá's services are suitable for different kinds of clients:
Retailers
Cerdá provides retailers with products all year round. The company put at their disposal all their catalogs, that shops and stores can download from their website. When the retailer orders the products, they are delivered within 24-48 hours.
This way, retailers can handle emergency orders and even make customized offers to their clients. For example, a client can require a specific product- the retailer can order it for them - and the client will have the required item within a couple of days.
Retailers can place their orders online and purchase by unit, size, or carton.
Discover: Supplier relationship, essential for the success of the company
Chains of shops
If you are managing a chain of shops, your needs may change when compared to retailers' ones. You need a distributor that can provide a higher number of items with the same punctuality and efficiency. Cerdá can answer these types of needs because the company offers its service to chains too.
Distribution
Cerdá also offers its services to distributors: that type of activity, that is, which does not take place by addressing private customers in physical or online stores, but which distributes its products to retailers, who will then sell them to individual customers. Cerdá can provide services to those who deal with distribution themselves.
Large distribution
And what about large distribution? Cerdá's possibilities are such that this company is also able to provide services to large retailers. Cerdá can manage large orders thanks to the size of its warehouses. Thanks to the efficiency of the shipping services and the immediate availability of products, it is also able to get the goods to the desired places in 48 hours.
Online
Many retailers are turning to the online sales channel, given the growing attention of consumers to this new buying habit. Cerdá has been ready for this digital shopping transition for some time and has adapted its services to make them ideal also for those involved in online sales.
The integration services that Cerdá makes available to you are, in this case, even more important.
Keep reading: 7 top ecommerce trends for 2022
Cerdá's services for business growth in distribution
If you are thinking about how to grow your business, Cerdá with its distribution services can help you put your strategies into practice. Among the services it offers to distributors, in this section, we examine the main ones, those that can help you increase your profit.
Personalized products
Cerdá offers you a personalized design service. The company, therefore, makes its knowledge and experience at your disposal so that you can create your own customized collections. This means that you too can take advantage of Cerdá's collaborations with the largest production houses of characters in the world and create your own original Disney, Marvel, and other collections ...
As with all Cerdá products, the company guarantees the same level of quality for the collections it creates for customers. In addition to the creation of the collection and products, Cerdá also deals with additional services, such as shipments and timely deliveries.
Automatic catalog / inventory integration
Cerdá is an avant-garde company from all points of view. To distributors, Cerdá offers the possibility of connecting their e-commerce with the Cerdá server: in this way, your stocks will be updated in real-time in accordance with orders, deliveries, the availability of Cerdá products.
With such an integration, you will have everything under control through a single platform. If you use more than one online marketplace, you can connect them all in order to simplify your work and make it more streamlined and efficient.
Availability of products and stocks
Thanks to its 22.000 m2 of warehouse reserved for storage, Cerdá is always ready to supply your business with stocks and products. The products are available all year round and there are no waiting times: when you order stock, Cerdá has it available and is able to ship it to you and have it arrive (or get it to your customer) within 24-48 hours.
Again, orders are managed via the web for a quick and efficient procedure.
Increase your business growth thanks to Cerdá Services!
With its services and experience, Cerdá can help you increase the turnover of your distribution business. Whether you want to take advantage of the multitude of Cerdá products and collections, or whether you want to create and launch your own collection, Cerdá provides you with everything you need to bring your business to success!