At Cerdá we believe that it is time to smile again. Recharge energy, release joy and enjoy again. For this reason, we have called our summer campaign: STAY HAPPY & POSITIVE. Inspired by this motto, which is almost a mantra, we have designed articles with bright colors, in which the characters are larger and stand out against plain backgrounds, with minimalist prints.
You might also be interested in: Summer Trends
Summer 2022 Campaign
We have created articles that can be easily combined so that the user finds their stile while dressing fashionably. From t-shirts, pajamas, caps and sneakers, to flip-flops, bags, swimsuits and sunglasses. Our design department has created a whole range of products that both children and adults will enjoy, and also pets!
Family Style Collection
We are facing a generation of mothers and fathers who grew up in the fantastic world of Disney. That strong bond that exists between them and the characters of their childhood is what they want to share with their children, so that all together can continue enjoying this magical universe. As a result of this reflection, our Family and Stay Youngcollections arise.
At Cerdá we value the concept of family in the broadest sense of the word. Together we share moments that we treasure in our minds and in our hearts. Funny moments that we remember and make us smile. That is why we have developed a collection of fun, carefree and cheerful clothing, capable of conquering all families. Everyone.
For Fan Pets
At Cerdá we are aware of the emergence of new family models, where pets are considered as one more member. The relationship with them is each time more intense and personal.
You might also be interested in: Dog and owner matching clothes, the new trend for your storage
And for this reason, in our For Fan Pets line, we propose a series of accessories designed to consolidate this bond. How? Through garments, leashes, harnesses, beds, feeders, toys for dogs and cats with the designs of their owners' favorite characters.
Stay Young
Do you remember when you jumped like Spiderman on the living room furniture because the floor was lava? Or when, instead of knowing the CIF number by heart, you knew the entire "Bajo del mar" song?
Surely you think that this was a long time ago and that it is thing of another era. But what if we tell you that in Cerdá we have created the Stay Young collection? A line of products designed precisely for teenagers and adults to bring out their inner child and enjoy their favorite characters without that childish involvement.
Disney Pride
Nowadays, it is undeniable that the LGTBIQ+ community is more than a colored flag. Little by little, the brands are joining and positioning themselves in the face of these movements, which also represent a new business opportunity.
It is a trend that is not hidden and that has come to stay, gaining popularity among young and adult audiences.
For this 2022 in Cerdá we have created Pride. A collection developed in collaboration with Disney whose product line follows the characteristic style guide and creative material that supports and gives visibility to diversity.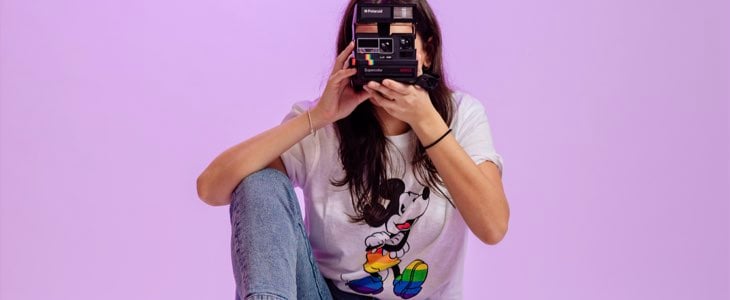 A year full of surprises
And these are the novelties that Cerdá has prepared for the Summer 2022 campaign. We hope you liked them! But... there's more!
We are looking forward to a year 2022 full of events that we, from SuperMoments, Cerdá's Retail Lab, will be sharing with you.